Everything You Need To Know About Raising Excellent Broiler Chickens in Nigeria
Nowadays, in the modern and fast growing world, we need to keep up with professionally and economically increasing goals. Broiler meat is the world's fastest growing protein production for human consumption.  Nigeria is the most populous nation in Africa. Agrited is a leading broiler chick producer and is fully devoted to producing top quality chicks, enabling farmers to achieve optimum profitability.
We wish to offer some essential tips for modern and most economical broiler production.
BREED
The modern broiler market is dominated by 2 breeds, Ross, and Cobb. Agrited is proud to concentrate in its Ross 308 breeding operation. Our chicks are originated from the Ross Grand Parents operation in Scotland, assuring finest advanced genetics of broiler potential.
BREEDING FARM
A good chick comes from a good breeding flock. A modern breeder needs attention in all PS flocks growth aspects. We begin as soon as day 1 to take care of our breeders by a strict updated vaccination scheme, close control of pullet weight and growth curve and best supply of vitamins, minerals, and feed additives breeders need. Our chicks hatch with a high antibody titer to IBD, NDV, IB, and many other pathogens, all provide the grower ultimate medical protection.
HATCHERY
Agrited operates state of the art modern Emka and Pasreform hatcheries. The hatcheries are constantly monitored for meticulous performance and the chick embryo is totally controlled until a timely hatch with full vigor. Now, after the chicks have left the hatchery and reach the farm, we propose a few features to help farmers achieve best results.
Thermoregulations
A day old chick cannot regulate its own body temperature. Therefore we need to supply the thermal neutral zone for it.
Start warming the building 24-48 hours before chicks arrive. Warming a concrete floor can take one to 2 days. A chick on a cold floor will refrain to eat and be inactive. The most critical period is the first five days. Gradually within 2 weeks, the chick becomes more capable to regulate its body temperature. The temperature at chick level should run from 31 to 33 centigrade and gradually stabilize at 21 degrees at 28 days.
In general, smaller chicks need a higher brooding temperature than bigger ones. A simple and good way to check how your chick is feeling is to hold its legs against your cheek. If you feel they are cold you should raise the house temperature.
Correct temperature management will assure high weight gain, lower FCR, lower cull rate, lower mortality and practically reduce bird growing costs.
Monitoring
Check your chicks after 24 hours to see if they have been properly accommodated.  Randomly select 100 chicks. 95% of the chicks should have full crops with a mixture of feed and water. If this goal is not reached, go through a check list and see if something is wrong. Feed quantity in feeders and on the floor, water quality, building temperature, hatchery problems, can all contribute to this feature.
7th day weight gain
7-day old chick weights are an excellent way to see how well did they start. Chicks should quadruple their day old weight within the first 7 days. Each one gram of weight gain at 7 days will yield additional 6 grams at 35 days old!
Good 7-day weight correlates positively with lower FCR and low final mortality.
7th day mortality
This feature is also important to record. Mortality of up to 1 % in 7 days is considered a good result. If results are way above, find out what has gone wrong.
Ventilation
This is an essentially important issue. The chick house has to be sealed from any draft wind at chick level. This is especially applicable in the first 14 days.
Never compromise ventilation in order to keep the correct temperature. Use minimum ventilation fans to keep the oxygen levels at the correct level.
The minimum ventilation should run on 5-minute cycles, allowing ventilation to work 20% of this cycle. That is 1 minute of fan ventilation and 4 minutes of no ventilation continuously.
Feed
Use a high-quality pre starter and starter feed.  Remember to add a toxin binder to the feed. The maze in Nigeria has a high rate of Mycotoxins that may cause feed refusal. In the first week, the feed has to be distributed on paper sheets aside the drinkers. Feed space using paper has to occupy 50% of the floor space.
The first feed application on paper should be 50 grams/chick. Thereafter, topping up of feed on the paper and a gradual move to the feeders.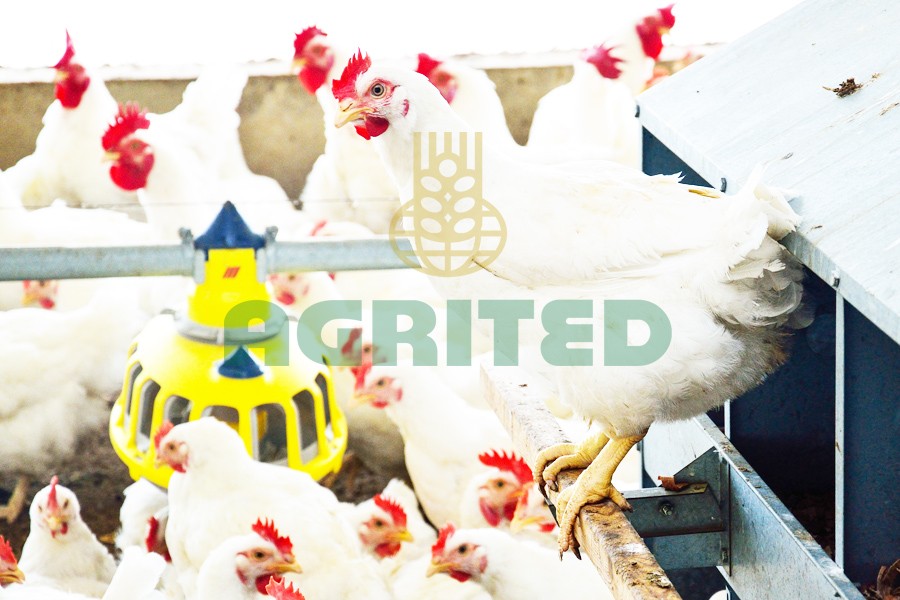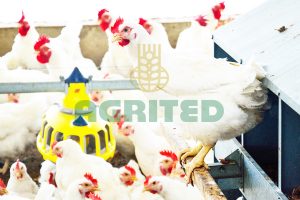 Drinking water
Drinking water should be from a tested well. Water with foul odor or wrong pH, will not be consumed by the birds. Ideal pH is from 5.5-7.5.
Ideal water temperature range is 10-14 centigrade, though birds will consume water in a wider range of temperature. Do not supply water above 30 degrees to the birds, it will not be consumed appropriately.
Stocking density
Stocking density should run around 25 kg/meter by slaughter time. As we have a hot climate in Nigeria, it is preferable not to exceed the above density.
Vaccination
In order to protect our flock from pathogens, a good vaccine supplier, and a good vaccination application plan should be adapted. Agrited is the Abic-Phibro animal health vaccine representative in Nigeria, supplying high-quality poultry vaccines for many years. The vaccine should be stored and shipped at the correct temperature advised by the vaccine producer.
It is preferable to apply vaccines in the water early in the morning, to avoid hot temperatures during the day, and utilize the high water consumption in morning. Deny birds from water for 1 hour in order for the vaccine to be utilized in 1-2 hours.
Water should be clean from any chlorine and disinfectant. Treat the water with a stabilizer or use skim milk to neutralize any Chlorine residues.
Bio-security
Disease control is one of the main challenges of broiler producers. Strict measures to reduce disease load should be implemented in the farm. Surround the farm with fences to stop unwanted visitors. Clean and disinfect the houses between depletion and introduction of new flock. Establish and perform a vermin control plan. Mice and Rats are known for Salmonella and Pasteurella vectors. Make sure that farm staff has full change of clothes when going in to the farm. Many viral and bacterial diseases can remain in clothing and shoes, and so if not changed before entering the farm may introduce disease into the broiler farm.
Use shoe dips with Phenol disinfectant dips before entering every poultry house. Apply vaccines correctly for utmost efficiency. Incorrect application can reduce vaccine effectiveness and harm flock health.
Use an efficient cremation facilities to dispose of dead birds. Dead birds can attract vermin, wild birds, dogs, and cats, therefore introduce viruses and Bacteria in the farm.
Treat invading insects in the farm. Insects have been known as carriers of Salmonella and various viruses with a great potential to introduce disease in the farm.
We wish you to achieve excellent results and hope these simple tips are of assistance.